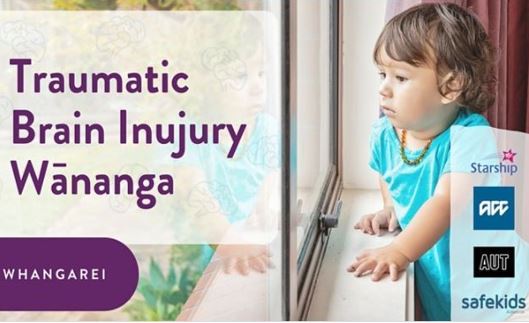 Part One: Traumatic Brain InjuryFacilitator: Dr Kelly Jones, Senior Lecturer AUT, Neuropsychology Programme Lead
In New Zealand it is estimated that up to 36,000 people suffer TBIs each year, of which 95% are mild. About one in every 8-10 people will not seek medical assistance or report their TBI to ACC. Safekids Aotearoa want more people to get the treatment, help and care they need.
In partnership with ACC we have put together a traumatic brain injury wānanga to share this knowledge which focuses on:
▪️ Explaining and defining what TBI is
▪️ Examining TBI data in relation to tamariki
▪️ Sharing experiences with TBI
▪️ TBI Prevention strategies
▪️ Support mechanisms for whānau
Safekids Aotearoa want to create awareness and reduce the number, severity and impact of TBIs for tamariki. We're working to increase awareness on what a traumatic brain injury is and how we can prevent it.
Part Two: Abusive Head Trauma (AHT)Facilitator: Grace Shallard, National Co-ordinator Power to Protect Programme
AHT, commonly referred to as Shaken baby syndrome (SBS) is a well-known term for babies and young children who suffer from serious inflicted head injuries, often from violent shaking or shaking with impact.
On average, twenty babies are admitted to hospital around New Zealand every year with such injuries. There is evidence that many more babies in the community may be shaken, than those admitted with a recognised head injury. This type of injury can occur in any family and in any ethnicity, and it is more likely to be missed in higher socioeconomic groups.
The Power to Protect Programme it is aimed at educating the caregivers of all new-born babies on how to cope with a crying baby and the dangers of shaking a baby. It also provides helpful tips to support parents on what they can do if they are feeling stressed, and where they can go for help.
Statement
Safekids Aotearoa recognises that delivering face-to-face may training increase the risk of COVID-19 transmission. We have some guidelines to ensure the risk of COVID-19 transmission is reduced.
If you are unwell please stay at home. When it comes to connecting with others, make sure you are following the recommended COVID-19 guidelines to protect the wellbeing of the community and yourselves.
We are asking all those who register and attend to do the following:
Practice the approved infection control procedures, being, hand-washing, social distancing, cough etiquette and cleaning surfaces.
Keep track of your attendance.
Physical distancing, by keeping 1 metre distance as this will be a controlled environment.
Safekids Aotearoa are taking precautions to ensure the safety, health and wellbeing of our staff, contractors, and community members to include:
A guaranteed limit of 40 registrations at each TBI wānanga location. This will not increase if NZ moves to Alert Level 1.
Provision of anti-bacterial wipes, surface spray, paper towels and hand sanitiser.
Display the Safekids unique COVID-19 tracer poster at the venue for scanning to help with rapid contract tracing.
Catering for lunch and afternoon tea has been amended to an individual lunchbox style for all registered participants.