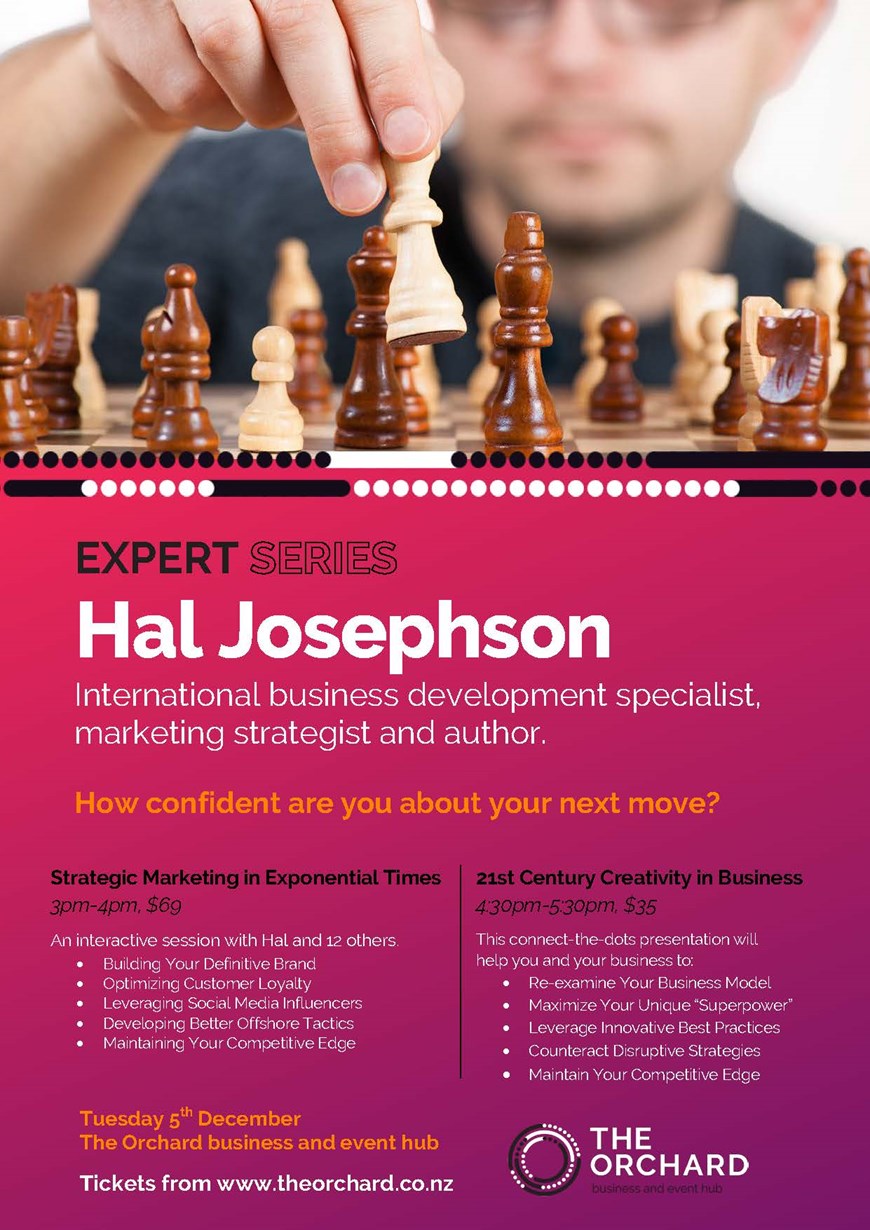 How confident are you about your next move?
We are holding two events on this afternoon. We are thrilled to have someone of Hal's caliber share his knowledge with our community.
1. Pre-event: "Strategic Marketing in Exponential Times"
An interactive pre-event with Hal and 12 people. 3pm-4pm - tickets $69. (can pay cash at the door).
• Building Your Definitive Brand
• Optimizing Customer Loyalty
• Leveraging Social Media Influencers
• Developing Better Offshore Tactics
• Maintaining Your Competitive Edge

2. Main event: "21st Century Creativity in Business"
Doors open at 4pm for networking, drinks, and nibbles. Event is 4:30pm-5:30pm - tickets $35 or $15 for students. (can pay cash at the door).
This connect-the-dots presentation will help you and your business to:
• Re-examine Your Business Model
• Maximize Your Unique "Superpower"
• Leverage Innovative Best Practices
• Counteract Disruptive Strategies
• Maintain Your Competitive Edge.
More about the main event:
Hal Josephson is an international business development specialist, market strategist, thought-leadership event organizer and author of Life-Size Story, his forthcoming book scheduled for release in 2018. Hal is the Founder of MediaSense™, a global business development firm focusing on technology, media and digital sectors. Clients have included: Apple, Motorola, AT&T, InfoTech Canada, Reed-Midem, Callaghan Innovation, Movio, Australia Multimedia Enterprise (AME), China Access, InternetWire, Shui-on, Tynax, Natcom, Auckland University of Technology (AUT) and HK Cyberport.
Hal's presentation invites entrepreneurial leaders to rethink, re-energize and rejuvenate their existing approach to 21st Century business. Today's effective business leader must identify and adopt new business models, strategies, and techniques to achieve success in our exponentially paced and increasingly complex global economy. This talk provides perspective and insight re: new business trends, creative strategies & best practices that will help entrepreneurs, executives, and team managers lift their game.
Hal's "connect-the-dots" presentation addresses the following questions:
What world-class best practices can help you develop and deliver your innovative products, services and brands more creatively and effectively?
How can new technologies & techniques power your business models by driving alternative market strategies, tactics and go-to–market plans?
How are disruptive technologies and the rise of the "co-creation or shared economy" as well as the "trust economy" reshaping our business landscape & transforming customer interactions and purchasing patterns?
What should smart entrepreneurs and smart businesses do to "disrupt, rather than be disrupted", & to proactively best position for future success?
Discover more about Hal and some of his portfolio projects here:
Hal Josephson | CEO, MediaSense | http://haljo.com/
Program Chair | Project '17 | http://www.the-project.co.nz/
Co-Founder | Japan Access 2020 | http://japanaccess2020.com/
Program Chair | DELF | http://delf.cyberport.hk/
Director | TradeOff | http://www.tradeoffgame.com
If you have any questions, contact Amy at hello@theorchard.co.nz
Get Tickets Add to Calendar 12-05-2017 16:30:00 12-05-2017 17:30:00 EXPERT SERIES - Hal Josephson, International business development specialist, marketing strategist and author. How confident are you about your next move? We are holding two events on this afternoon. We are thrilled to have someone of Hal's caliber share his knowledge with our community. 1. Pre-event: "Strategic Marketing in Exponential Times" An interactive pre-event with Hal and 12 people. 3pm-4pm tickets $69. • Building Your Definitive Brand • Optimizing Customer Loyalty • Leveraging Social Media Influencers • Developing Better Offshore Tactics • Maintaining Your Competitive Edge 2. Main event: "21st Century Creativity in Business" Doors open at 4 pm for networking, drinks, and nibbles Event is 4:30pm-5:30pm - tickets $35 with 30% discount for more than 2 tickets or $15 for students. This connect-the-dots presentation will help you and your business to: • Re-examine Your Business Model • Maximize Your Unique "Superpower" • Leverage Innovative Best Practices • Counteract Disruptive Strategies • Maintain Your Competitive Edge. Level one, 35 Walton Street Whangarei New Zealand 0110 The Orchard false MM-dd-YYYY